Hughes Marino Series: San Diego Life Science Pipeline
By Hughes Marino Life Science Team
A previous Hughes Marino Series: San Diego Life Science Pipeline article provided an overview to our readers of the Greater San Diego bioscience innovation corridor, ranked #4 in the country, as a top performing Biopharma Cluster by Genetic Engineering and Biotechnology News.
Dynamic and entrepreneurial companies populate approximately 18 million square feet of creative office and lab space across the region. In this article we highlight one of the dominant players in life science commercial real estate (CRE), Alexandria Real Estate Equities, Inc.
Alexandria, a New York Stock Exchange, publicly traded REIT is "focused on collaborative life science and technology campuses in AAA innovation clusters," according to the company website. Their North American footprint spans "32 million square feet as of June 30, 2018, while occupancy of operating properties across key locations is 97.1 percent as of the same date."
A vacancy rate of less than 3% across their portfolio is truly remarkable. And while part of the explanation is obviously a similar low vacancy rate across the robust life science sector generally, another explanation could be ARE's focus on customer service which tends to create loyal, dedicated and engaged tenants. This seems to be the case with Alexandria's San Diego bioscience clients, spread across the company's 4.5 million square feet of properties. "Some of the world's most innovative and groundbreaking companies call Alexandria's properties home," says Daniel Ryan, Co-Chief Investment Officer & San Diego Regional Director, Alexandria. "Vertex Pharmaceuticals, Gossamer Bio, Metacrine, Inc. and Xeris Pharmaceuticals are examples of best-in-breed names creating transformational change in the life science sector."
Vertex
Alexandria's success stems from a commitment to advancing life science ecosystems through innovative, vibrant and leading-edge real estate offerings. "Alexandria continues to do an amazing job of creating dynamic bioscience hubs at their facilities," says Jim Larsen, Vice President, Global Engineering & Capital Projects, Vertex Pharmaceuticals. "We could not be more excited about our new facility at Spectrum IV in Torrey Pines. The building is spectacular and as far as I'm concerned is the best lab facility in San Diego, and I might argue on the West Coast."
As in the case of Spectrum IV, and with all of Alexandria's projects: location, design, facility configuration and amenities offer companies resources to develop their business lines and grow the San Diego Life Sciences community. "The open layout provides transparency that enhances collaboration and provides everything our employees need," says Larsen. "Current and prospective employees are excited about Vertex's science, and this amazing environment amplifies that excitement."
Alexandria created the 170,000 square foot, three-story complex after demolishing two obsolescent buildings at the site. "The location is close to University of California-San Diego, which is important to Vertex," says Ryan.
A more than doubling of the size of their previous home, Spectrum IV serves as 100 percent research and development space for the company to develop its innovative bioscience portfolio. "70 percent of the facility is dedicated to lab space." says Larsen. "However, unlike typical lab design that would group chemistry labs for efficiency, Alexandria collaborated with us to have multiple chemistry laboratories on each floor. This allows for greater cross-functional collaboration."
In addition to the functionality of the design, Vertex team members enjoy a 2-acre park with walking paths, firepits and barbecues. "We are also only 400 yards from the Alexandria Amenities Center," Larsen says. "There is a farm-to-table restaurant, spa quality gym and a wide array of conferencing space, this allowed us to eliminate these program elements from our building and focus on science."
Gossamer Bio
A stone's throw away from Spectrum IV, Gossamer Bio inhabits space in Spectrum II. "Right now, we occupy the second floor, but soon will be adding the first floor," says Christian Waage, Executive Vice President and General Counsel, Gossamer. "At that point we will utilize all of the 63,000 square feet of space."
Gossamer's executive team partnered with Alexandria previously when Sheila Gujrathi, M.D., Co-Founder, Chief Executive Officer and Faheem Hasnain, Co-Founder, Executive Chairman ran the operations of Receptos. "The real estate philosophies of Alexandria, Gossamer and previously Receptos align extremely well," says Waage. "The organizations look at investments in property as less about infrastructure and more about people. And with the favorable terms negotiated by the team at Hughes Marino, both for Receptos and now for Gossamer, we expect to enjoy a long-term relationship with Alexandria."
As with Vertex, Gossamer's team members enjoy the quality of the space and the accompanying amenities. "Alexandria really gets the concepts right," says Waage. "They create open, airy and collaborative environments that individuals want to work in."
Metacrine and Xeris
Just a few miles East, two pioneering firms: Metacrine and Xeris inhabit office/lab space in Sorrento Valley. "Alexandria did a really nice job with this building, employees are very pleased," says Steven Prestrelski, Chief Scientific Officer, Xeris.
The current design, consisting of three suites, each containing 20,000 square feet, came to fruition out of a massive redevelopment of a 1970's office site. "We completely reimagined the space and created a modern facility," says Ryan.
Both firms entered the new facility in 2018, Metacrine in March and Xeris in June after the company relocated from Austin, Texas. "The space has been completely revitalized with a modern and industrial feel," says Eric Bischoff, Vice President, Development and Operations, Metacrine. "Previously the building was dark and dumpy, but Alexandria made it open and bright with curtain walls of glass, a breezeway and interior courtyard. "Having a reinvigorated space really does a lot for the energy and morale of the team."
With office and lab components, both firms benefit from a design, which fosters productivity and innovation. "Alexandria has been in the biotech business long enough to know what needs to be in the laboratory," says Bischoff. "Important though, they involved us in the design and throughout the build. The facility is customized for our needs, and has functionality and usability moving forward."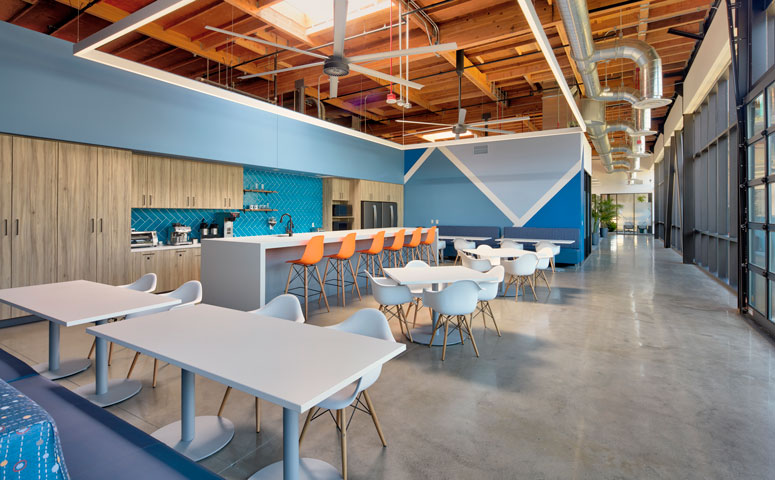 And according to Prestrelski with Xeris, "I have to say, ARE has shown themselves to be a high-quality landlord, and in addition all of this came together in a very smooth, timely and professional manner thanks in large part to the team at Hughes Marino. In particular I would like to acknowledge Dean Peterson in his role as Hughes Marino Project Manager. It was a very complicated build out from shell, and he was all over it from day one, managing the process with our interests in mind, and he was able to get us in on time and under budget with no negative surprises. Now that was most appreciated!"
Amenities also play a big role in the satisfaction of Metacrine and Xeris team members; a point Alexandria emphasizes in each of their offerings. "We understand how an office site, the design, amenities and location play into talent attraction and retention," says Ryan. "This space has incredible common areas and collaborative conference rooms," says Bischoff. "There are even storage spots for bikes and surfboards," says Prestrelski.
Unquestionably, Alexandria boasts an amazing collection of companies creating ingenious health and life science offerings. Adding to this impressive list are familiar names such as Celgene Corporation, Vividion Therapeutics and Eli Lilly and Company. "Creating world-class spaces for the life science community in Greater San Diego and nationwide is our number one priority," says Ryan. "We have the utmost respect for the Hughes Marino team. They are first class operators. Yes, they are always looking out for their clients' best interests, and we appreciate their leadership in working cooperatively on solutions that enable deals to get done."
Our next installment of Hughes Marino Series: San Diego Life Science Pipeline will examine Alexandria's newest life science offerings coming to market in 2019 and 2020.