San Diego Commercial Real Estate Experts
Voted San Diego's best commercial real estate firm for many years, Hughes Marino specializes in helping companies develop strategic solutions for all of their real estate needs.
Our integrated team of brokers and subject matter experts collaborate in unison to provide companies with smart, sound and creative commercial real estate solutions that enable our clients to thrive. From leasing, buying and building facilities, including office, industrial, lab and manufacturing spaces to name a few, our comprehensive services encompass tenant and buyer advisory services, sale leasebacks, purchase and sale scenarios, multi-market national representation, complete real estate outsourcing, consulting and advisory services, program, project and construction management, workplace strategy, planning and design, as well as global portfolio management, lease administration and audit services.
San Diego Tenant and Buyer Advisory Services
As San Diego's premier commercial real estate firm specializing in representing tenants rather than landlords, we've helped some of the nation's most admired companies grow their businesses with creative and strategic real estate solutions, and we can put our experience to work for you.
We're honored and humbled.
Fortune Magazine Names Hughes Marino
#1 Best Workplace in the Nation
Read More
---
---
Why Hughes Marino
Confidential
The details of your real estate transaction are no one else's business. Confidentiality is a must at every turn, and we'll make sure it stays that way.
No Conflict
Unlike most brokerage firms, we exclusively specialize in helping companies who need commercial real estate to operate their business. Our clients appreciate our one stop, vertically integrated service lines and proprietary product offerings focused exclusively on the needs of businesses.
Specialization
Our team is comprised of real estate experts, attorneys, construction managers, architects, designers, financial analysts, lease auditors, lease administrators and operations management to create an outstanding outcome for our clients.
Respected
Our bespoke team is comprised of the most accredited experts in their field, including licensed brokers, MBAs, MSREs, JDs, financial analysts, architects, designers and LEED project managers. And we're honored to be recognized among some of the nation's very best companies.
---
A Different Kind of Commercial Real Estate Company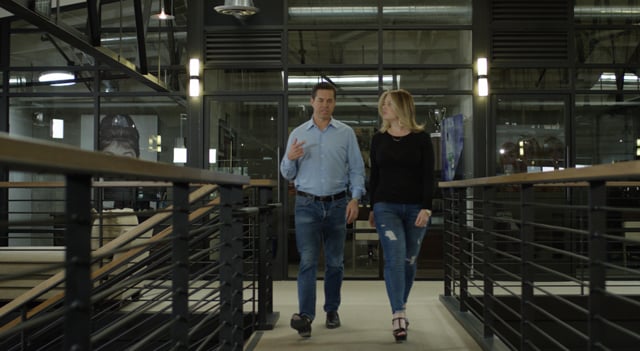 ---
What's New in San Diego
Introducing HM Science, a Specialized Life Science Division of Hughes Marino
By Hughes Marino on March 21, 2023
Hughes Marino is proud to announce the launch of HM Science, our specialized life science division. With more than three decades of expertise in life science real estate, the HM Science team brings exclusive tenant representation on a national and global scale, led by our experienced team of life science experts and backed by our bespoke line of services catering to the needs of life science companies.
Read More
National Office Market Report—Survive Til '25
By Hughes Marino on February 8, 2023
It's hard to believe that we are completing a three-year milestone since the COVID-19 pandemic began in March 2020. While virtually every office tenant in the United States was immediately forced to work remotely until the virus' passing, this persisted unexpectedly for months, permanently changing how employees and employers utilize their office space.
Read More
---
Clients Served