By David Marino
Commercial Real Estate Developer Cruzan – known for thinking outside of the box when it comes to rethinking the environments in which people work – has made a bold statement in Carlsbad with its MAKE redevelopment project. The project's stated vision was to develop "an office campus for ambitious and innovative companies that demand a work environment which sets them apart." MAKE impressively delivers on this promise.
MAKE, located at 5600 Avenida Encinas, was originally built as an electronics manufacturing plant, and later became the San Diego International Floral Trade Center. Today at 175,000 square feet, MAKE is one of the coolest office destinations, not just in North County, but in the entire San Diego region. It is a shining example of what purposeful redevelopment should look like.
MAKE has raised the bar for creativity and innovation when it comes to the adaptive reuse of aging buildings. In addition to having a shuttle to transport employees to and from the coaster station in the morning, and again to restaurants for lunch, MAKE boasts a premier gym and fitness facilities. MAKE also provides storage for surfboards and wet suits, as well as outdoor showers – a fitting amenity given its proximity to the ocean. Outdoor cafes, a shipping container that has been converted into a coffee shop, large breezeways cut into the middle of the former interior building area, and an outdoor amphitheater complete Cruzan's vision for indoor/outdoor workspace integration.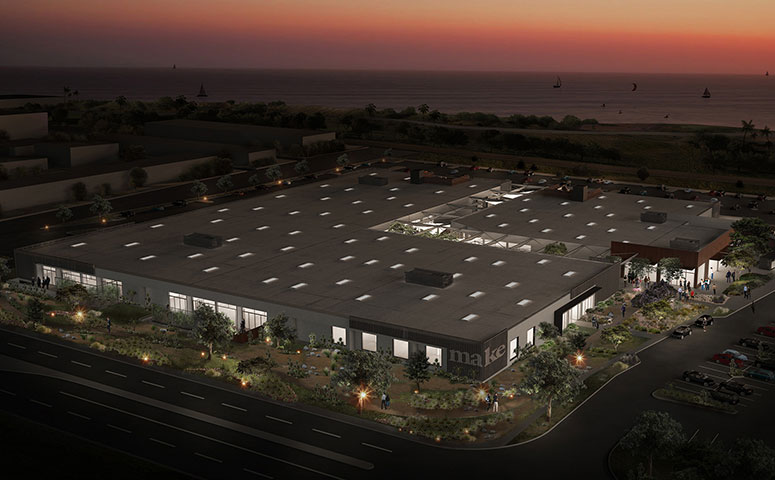 With office vacancy rates at eight-year lows in the North County submarket, and large blocks of office space over 40,000 square feet being in short supply, MAKE provides exactly what creative and technology tenants in North County are looking for. Its prime location near the water, transit stations and freeways make it a desirable option for companies willing to expand their search radius. Moreover, current rents are about $1.00 per square foot less than what tenants can expect to pay in Del Mar Heights, making it an economical solution for tenants on tight budgets that are willing to venture a bit farther north.
It will be exciting to see the type of tenant that is ultimately drawn to MAKE, but my hunch is that, with GoPro serving as anchor tenant, the new campus is going to fill up with creative/tech companies in no time.
David Marino is senior executive vice president of Hughes Marino, a global corporate real estate advisory firm that exclusively represents tenants and buyers. Contact David at 1-844-662-6635 or david@hughesmarino.com to learn more.